What Walgreens' Nationwide Same-Day, 2-Hour Delivery Means for Retail
This article is originally from RIS News. 
As Walgreens introduces nationwide delivery in under two hours, retail experts weigh in on the last-mile delivery wars.
The delivery wars are heating up again and Walgreens has entered the ring with nationwide, contactless, same-day delivery in under two hours.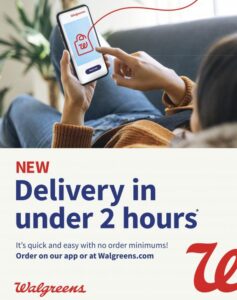 While the pandemic has stimulated retailers to roll out same-day delivery services to compete for the last mile, the practice is likely to remain sticky even as in-person shopping returns.
"As the country gets ready to emerge from the pandemic, Walgreens continues its focus on enhancing our customer experience through integrated and simplified shopping solutions," said Stefanie Kruse, vice president of digital commerce, Walgreens.
Walgreens relaunched its customer loyalty program as part of its mass personalization efforts and rolled out "as little as 30 minutes" pickup last November. Since Walgreens launched the half-hour pickup option in-store, curbside and via drive-thru, the retailer has built on this to offer combined pickup for retail products and prescriptions. It also has since launched on-demand delivery through third-party partnerships with Postmates, DoorDash and Instacart.
"Since the launch of myWalgreens in November 2020, we are constantly innovating to provide convenient delivery options to our customers that make their lives easier. We are confident that customers will enjoy our new Same Day Delivery functionality for those last-minute needs."
"The pandemic was a time to test which tech tools work for the company's long-term retail strategy and see how consumers respond," notes Kevin Beasley, CIO at VAI. "Now, a year later, we see a greater increase of innovative and digital ways to shop, as well as curbside pickup and home delivery, as a result of the current landscape."
Walgreens' launch of Same Day Delivery allows customers across the U.S. to get access to more than 24,000 items for delivery in under two hours. But even more enticing, the drugstore retailer is offering no minimum required, although eligible products, delivery hours, and fees vary by location.
Walmart, for comparison, dropped the $35 minimum order requirement on its 2-hour Express delivery service for all its customers in March and requires a $10 Express fee from Walmart+ members for the service.
"With Walmart+ attracting enrollees across the nation, Walgreens has likely been feeling the pressure to offer similar conveniences as more and more shoppers continue to buy weekly commodities online," notes Randy Mercer, VP of global product management at 1WorldSync. "However, brands like Walmart and Amazon have excellent product pages, often including important 'below the fold' information including high-res images, detailed descriptions and a long stretch of customer reviews on every e-commerce page. While Walgreens has depended on heavy physical store traffic and brick and mortar sales for decades, it will need to prioritize its online pages in order to entice shoppers."
To utilize the service – either through Walgreens.com or in the Walgreens app –  upon checkout shoppers select Same Day Delivery to receive items for contactless delivery to their door. The new functionality allows customers who are myWalgreens members to earn and use Walgreens Cash rewards, as well as redeem digital promotions and savings offerings.
In under two hours, Walgreens team members fulfill orders and then third-party carriers deliver the items, Walgreens tells RIS.  "Our partners offer contactless delivery, where couriers will leave orders at your doorstep. Third-party logistics carriers include DoorDash, Uber, Medline and Act Fast. We believe that these third-party services complement our suite of convenience offerings to allow customers to shop on their own terms, when and how they want."
"Walgreens' partnership with DoorDash and Uber is a good example of the success of mobile in the past year," says Arpit Jain, VP of Delivery at Nerdery. "Mobile solutions and apps are increasingly crucial tools for retailers to connect their end-to-end strategy and successfully manage curbside and same-day delivery orders. Consumers are spending more time on their phones today and finding new ways to connect with the brands they love."