How Macy's Will Reach $10B in Digital Sales
This article is from RIS News.
Here you can read the full article about the way Macy's will reach growth through investing in digital experience and using the Star Rewards loyalty program:
Macy's said it expects approximately $10 billion in sales will come from its digital channels by 2023 and is willing to spend to meet this goal.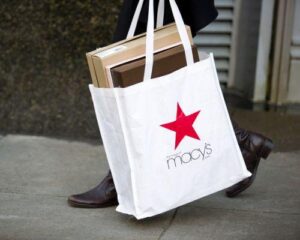 The retailer plans to invest a large percentage of capital in the digital experience, as well as its supply chain and technology transformation. Specifically it will spend about half of its capital — $325 million out of total 2021 spend of $650 million — to support these goals. Macy's CFO Adrian Mitchell noted this will be hike of around 2.5 times from what it has done over the past several years.
To hit its goal of growing digital sales to $10 billion within the next three years, Macy's will "continue to make fundamental investments, while delivering new, immersive, content-driven experiences for customers," said CEO Jeff Gennette.
Part of this includes launching a refreshed homepage with curated visual content and more precise search and browse functions. It also plans a more intuitive bag and check-out experience with broader ways to pay.
"In high engagement categories like beauty, we are creating immersive online experiences so customers can discover new products to shop with confidence," explained Gennette. "These experiences augmented with virtual reality plus virtual consultations, which we have staffed with our own beauty consultants, are already showing tremendous power."
Digital growth in the beauty category within Macy's in 2020 grew more than 60%.
Macy's also added a pillar to its "Polaris" strategy, which includes plans for a modernized technology platform to support a friction-free customer and colleague experience, as well as a revamped data and analytics foundation to drive growth and profitability.
Earlier this month, the retailer named Xingchu Liu its senior vice president, enterprise data & analytics, tasked with building and leading the company's enterprise data & analytics team. The team will focus on analytics governance, data management and activation, and set the standard across the enterprise.
"Enterprise data & analytics is a critical part of Macy's vision to build profitable lifetime customer relationships by embedding data and analytics at the heart of everything we do," chief digital officer Matt Baer said of the appointment. "[Xingchu's] deep expertise in data analytics, paired with his strong understanding of retail KPIs and consumers will be key as we modernize our technology platforms to support and enable business growth and a friction-free customer and colleague experience. We know that modern retail is built on a balance of art and science, and I am confident Xingchu will hold that balance and help Macy's stand up a best-in-class data and analytics center of excellence and enable us to move faster, drive innovation and stay competitive."
As Macy's doubles down its analytics efforts, Mitchell noted during the retailer's earnings call that the retailer saw a 45% increase in Bronze tier members of its Star Rewards loyalty program over the entire year, which are the youngest and most diverse in the program.
"They are vital to segment in our under 40 strategy," said Mitchell. "Star Rewards provides exceptional value to our customers, while allowing us to use advanced analytics to personalize product offers and shopping experiences, driving higher and more profitable customer spend."
Macy's attracted nearly seven million new customers in the fourth quarter alone, many of them under 40, according to Gennette.
Digital sales rose 21% from 2019 in the fourth quarter of 2020 and accounted for nearly 44% of sales, up from 30% in 2019. Around a quarter Macy's digital sales were fulfilled in stores, including curbside pickup and same-day delivery. The retailer delivered adjusted EBITDA in the fourth quarter of $789 million, which brought the full year to a positive $117 million.
"Our sales momentum and profitability are due to our investments in advanced analytics and enhanced collaboration with our vendor partners to drive gross margin," said Gennette.